I am usually a traditionalist when it comes to dance. Contemporary and modern dance just aren't my thing. However, Kellie Pickler and Derek Hough had me in awe on Monday night and again last night during their encore. Oh, my, word. Just beautiful. I love this dance, and it makes me miss my dancing days.
I love that one week from today my parents will be home from their cruise and I can finally talk to my mom again. What a loooooooooong month!
I love that three weeks from tomorrow, we leave for Zambia. My countdown is getting shorter and shorter!
I loved our Chamber Singers' Spring Concert this past Sunday. It was a beautiful evening of worship, made even more special as we remembered our friend Cindy. She suddenly passed away 3 weeks ago, and we dedicated our concert to her years and years of service to music ministry.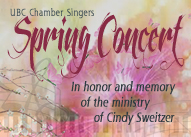 I love my Jesus!
What are you loving this week?
Linking up with
Jamie