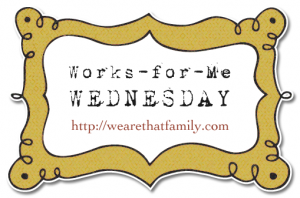 Today I'm joining a different link-up, and I'm excited to get some new ideas as well as give one of my own!
A friend asked yesterday how I handle make-up work in my classroom. I teach 6th grade. These kiddos are learning independence and responsibility for their own actions now. When they are absent, it is their job to get their make-up work, look over it, ask questions if they have them, do the work, and turn it in. With over 150 kids, I can't look over every absent kid's shoulder and micromanage them.
A few years ago, I wrote each day of the school week on the front on a different manila folder. I then taped them on my tall cabinet door. After I take attendance, I write the names of absent students on any worksheets, notes, maps, or other instruction pages that will explain what they need to do to get caught up. I include the adjust due date, per our districts absent work policy. I'm nearly always done with this by the time the class has finished warm-ups.
When the students return, they know to look in the folder of the day(s) they were absent. They know when I have tutorials (daily!!) and to ask me questions then or via email. If the assignment/notes/activity/etc isn't completed by the due date, they know it's then counted late. The parents see this system clearly during open house, and they can't argue with it. It's awesome, and worked great for years!