I love
Bloglovin
! Knowing that Google Reader will soon disappear, this has been a super easy way to connect all the blogs I like to read, even from Word Press. Check it out, and follow me too! The same link is also one of my pages above.
I love
Rachel
's sweet blog! If you haven't discovered her charm yet, head on over to her site. Rachel does a Monday link up on inspirational quotes. I love how this has challenged me to look at Monday mornings in a positive light instead of grumbling about the start of a new work week.
I love
Kristen
's blog. She speaks such truth. Tuesday's post was about her living room wall. I'm totally stealing her picture, but I have to share: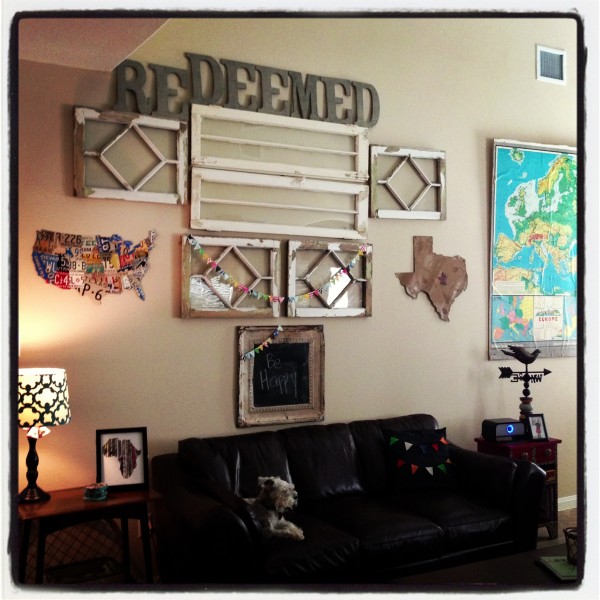 Those amazing 'redeemed' letters can be yours for $13.99. I'm making you go to Kristen's blog to find out how though. :) I have great plans for the 'redeemed' letters on this wall:
I don't ever want to lose sight of what that cross really means: it was a death sentence to redeem me. That's worth remembering every moment of every day.
I love that I'm seeing more of my cross wall lately. The past couple of weeks have slowed down, and I've had free time to sit and play. I haven't done this nearly enough since getting married. Part of my problem is not liking having an audience that's more than God, but I'm working on that. As a kid, the two things Mom couldn't get me away from were books and this piano.
I love these pictures from Easter that Bridget sent me of the girls. I love those smiles! If only I could squash the distance between Dallas and Houston!
I love how people are coming out of the woodwork to support Kate's charity: water
project
at my school. It's not to late to donate! This is a great project if you/your family/your business is looking for a cause to support for April!
I love my Jesus!
What are you loving this week?