Thank you for allowing me a week of silence from WILW. Last Wendesday, The House of Representatives passed the Reauthorization of the Trafficking Victims Protection Act. This act has helped people like my brothers immensely, and I'm so grateful it is one step closer to being renewed. Slavery is alive and well in America, and it must be stopped NOW.
I love that there are only 2 1/2 days til Spring Break. Come on Friday at 1:00!
I love that I'll be back in Dallas Friday night to bring Tina and Joelle home on Saturday for the week. Yippee!
I loved my weekend in Dallas for the Texas Middle School Association's annual conference. It was a great 2 1/2 days of sessions. I left encouraged and with new tricks of the trade. I also had a great time catching up with some of the dearest, long time friends a gal could have, and I had lunch with this beauty at her school:
I like this laptop case I got: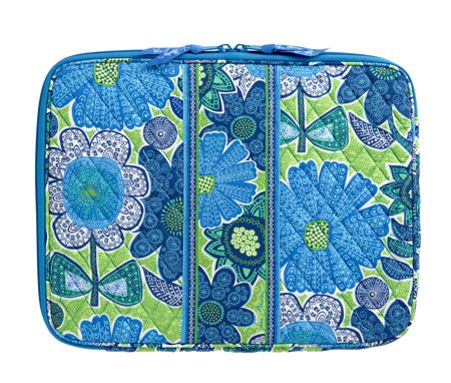 Blessings from the past two weeks.
2-20: Texting with my brother in Zambia before work, starting Invictus with my kids
2-21: One week til I see my nieces!
2-22: Go Texan Day: Got to rock my pearl snaps, boots, and hat at work. Whoop!
2-23: Gorgeous day at the park
2-24: Gorgeous music in rehearsal this night
2-25: Someone donated a $100 bill to the well project :)
2-26: Lots of excitement for the
well project
as a fundraiser dinner was planned at Fuddruckers.
2-27: I found a super cute laptop case for my netbook so I can travel more easily with it. See the photo above.
2-28: True Texas Country in Dallas: 95.9 The Ranch. So grateful I learned they have online streaming so I can listen in 24/7. Houston is seriously lacking in the TX Country area. Sad. I also so my first bluebonnets of the season.
3-1: Lunch with Tina at her school
3-2: Texas Independence day with 95.9 The Ranch for a good chunk of the day and Native Texan friends.
3-3: It's just a joy to play bells. Seriously.
3-4: Listening to 95.9 at while getting stuff done. I think I have a problem.
3-5: Dinner with so, so many students and their families at Fuddrucker's for our charity: water fundraiser. What a treat!
I love my Jesus!
What are you loving this week?
Linking up with
Jamie